What is the 3S Retrospective?
Smartpedia: The 3S Retrospective is a method used by agile teams to discuss things they want to start, spice up or stop.
3S Retrospective –

Start, Spice up and Stop

The Scrum Guide defines "The sprint retrospective is an opportunity for the Scrum team to inspect itself and create a plan for improvements to be enacted during the next sprint." A retrospective in Scrum is therefore a regular event where the development team meets to shed light on the recent past – the past sprint – and thereby improve future teamwork. The 3S Retrospective is a variant of such a review that defines three categories:
Start: In the "Start" category, each team member notes things that the team has not yet done and that could be useful for them.
Spice up: In the category "Spice up" elements are recorded from which the team benefits and which it could do even more and / or better.
Stop: In the category "Stop" aspects are noted which the team holds back and / or which cost a lot of time.
Once enough ideas have been generated, the team members vote on the most important aspects. The Scrum Master can let each team member vote for an idea or grant each team member for example three votes, which can be assigned individually (thus also three votes for the same element).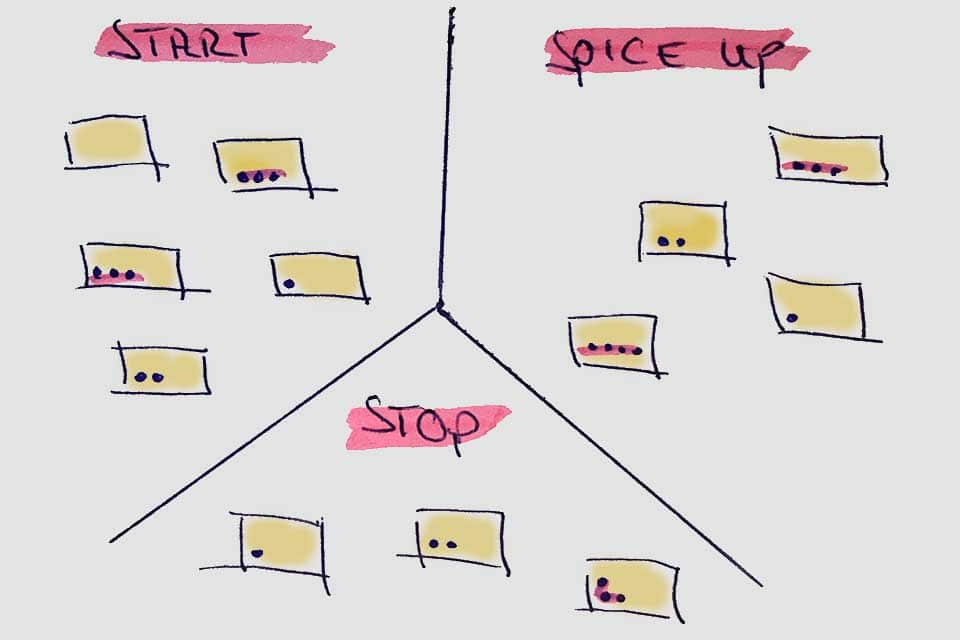 Advantages of the 3S Retrospective
The 3S Retrospective offers several advantages:
It can be implemented quickly and easily.
The division into Start, Spice up and Stop is very action-oriented and concentrates on the essentials.
Every created object can lead directly to a change of behaviour. So the team can start to do something new in the future, or it can stop an activity or it can continue to do something until it becomes a habit.

 
Impulse to discuss:
How important is it for the success of a retrospective whether there are three, four or five categories for classification?
Notes:
Here you will find additional information from our Smartpedia section: