What comes to your mind when you hear "The customer is king"? Maybe "That's old hat." Or, "That's what everybody says!" Or maybe it's "It's not true. The employee is king." It probably won't surprise you, but all these answers are true. At least in bits and pieces. Unfortunately, the bad news is that in practice, the customer is rarely truly king. I'm sure you can think of many examples where you did not feel like a king. I will also give you some examples, but not with the aim of "pillorying others", but with an appeal and good news in mind.
The customer is rarely constantly king
Companies are in competition with each other. They advertise their products and services for customers, guests, users, passengers, clients – there are almost endless synonyms for customers. Bigger, faster, further, better, cheaper, happier, more successful, more efficient, healthier – many such characteristics are advertised. Advantages are advertised and values are promised. "Your advantages are programmed" is one of our slogans, for example.
Of course, it is "normal" that companies are looking for customers. And it is also normal that flowery words are used in acquisition. Surely customers can feel like kings in a figurative sense during these phases. But in my personal assessment, this phase is not permanent for many companies. Here are some examples:
A large telecommunications company offers its existing customers to increase their Internet speed from 50 Mbit/s to 250 Mbit/s without increasing their monthly fees. Sounds good, doesn't it? However, the fees only do not increase for the first 24 months, after which they increase as planned by almost 20 euros per month.
In a gym, the membership contract automatically provides for an annual adjustment of the membership fee by 1.50 Euro per month. Doesn't sound like much, does it? 1.50 Euro per month is 19 Euro per year. Every year. The longer the contract runs, the higher the membership fee.
A pay TV station offers individual special interest channels for 19.95 Euro per month. Term: 24 months. After that there is an automatic adjustment to 39.95 Euro.
Of course, you could rightly object that there is competition and nobody forces customers to accept these offers. True. Especially since there are competitive offers with better conditions: another telecommunications company offers 1 Gbit/s at a significantly lower and at the same time constant monthly price. An alternative gym costs less than half the price, has longer opening hours and more qualified trainers. And various streaming providers offer their complete packages for about 8 – 12 Euro per month.
The customer is not supposed to be king
Recently I read some articles and opinions that claim that the customer should not be king at all. Among other things, the following reasons were given:
An equal business relationship is based on mutual respect.
A strong brand does not have to chum up, but communicates at eye level.
With a clear position, manufacturers can also say no.
Companies and their employees are not servants.
Of course, any of these points can be discussed. And every statement also has a core that you and I can almost certainly understand. But on the whole, I consider the points: WRONG. For one simple reason: they reverse roles. Many companies cannot choose their customers. On the contrary: they are chosen by customers. As the name suggests: companies are service providers, they provide a service. Or they are manufacturers and produce products that provide features – in other words services – for customers.
Please don't misunderstand me, I don't want to propagate that manufacturers and service providers have to fulfil every customer wish. Most companies could not even do this if they wanted to. I am a friend of clear company positions or brands. But I find it desirable to treat customers like kings, because from my point of view this means for example
to take a serious interest in the needs of the customers in order to offer good products and services in return.
to ask customers for feedback and to use it as good as possible.
to tell customers the truth and thus telling them things they may know but don't like to hear.
to keep the interests of customers in mind at all times.
These points ideally lead to a good and healthy business relationship. The equivalent business relationship is therefore a consequence for me and not a prerequisite.
By the way, there is only one reason why customers are not kings: Kings don't have to pay anything, but customers do. And that is a good thing … 😉
Is the employee the real king?
In the discussion about the role of customers, the discussion about the importance of employees is frequently interspersed. Who is more important for the success of a company: the employees or the customers? Three opinions can be clustered:
The employees are more important, because without their work and performance companies could not sell products or services. Without employees there would be no customers. Consequently, employees are the true kings.
Customers are the focus of companies' attention. They pay bills and thus also the salaries of employees. Without customers there would be no employees. So customers remain kings.
The truth lies in the middle: Employees and customers are equally important and mutually dependent. Without the respective other side they cannot exist. They are two sides of the same coin. Or to put it differently: employees and customers are kings.
Who is more important to you? Employee or customer? For me, the employees of companies are the prerequisite for them to be able to win customers at all, although this does not change my assessment that the customer is or should be king.
My appeal and the good news
Steve Jobs is said to have discovered opportunities for improvement wherever he went. He sketched better procedures on napkins. He identified potential for new products by watching people. Maybe sometimes you feel the same way:
You check into a hotel and wonder why you have to transfer the data from your ID card into a form at the hotel while the receptionist watches you.
You wonder why you have to pick up and drop off a rental car in a garage on the other side of town, while car sharing providers define a business area where you pick up the rental car where it was parked and, after you rent it, simply park it where it is most convenient for you. You might also ask yourself why you have to sign four times to rent a car, whereas with car sharing it's just one click away?
You wonder why media websites want 10 Euro a month to access all of your articles, while the New York Times does it for 4 Euro a month.
Obviously, it is not that difficult to discover potential in "other" organisations and companies. The good news is that you have this potential too. All you have to do is discover it. There are basically three options:
You observe and question yourself.
You observe the competition and take over everything that is really good.
You question your customers or potential customers.
Specifically, you might ask yourself whether you actually use your own product internally, which you recommend to every customer. Do you do that? Yes, no, maybe? How do you like it? What would have to happen to make it the best product of its kind in the world? And if you do not use it: why not?
It's certainly a good idea to keep an eye on the competition. What new products does the competition offer? What benefits do they propagate? What are the advantages compared to your own products or services? And why do potential customers choose competing suppliers?
And last but not least my appeal: ask your customers. It would be best to make it a regular task. It is best to start NOW. Pick up your telephone receiver, write an e-mail, make contact. I am sure you will receive a lot of valuable information and also good ideas in response. And do you know what you do implicitly? You treat your customers like kings!
Notes:
Michael Schenkel has published further articles in the t2informatik Blog, including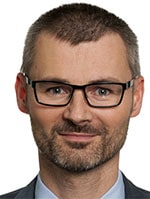 Michael Schenkel
Head of Marketing, t2informatik GmbH
Michael Schenkel has a heart for marketing - so it is fitting that he is responsible for marketing at t2informatik. He likes to blog, likes a change of perspective and tries to offer useful information - e.g. here in the blog - at a time when there is a lot of talk about people's decreasing attention span. If you feel like it, arrange to meet him for a coffee and a piece of cake; he will certainly look forward to it!​