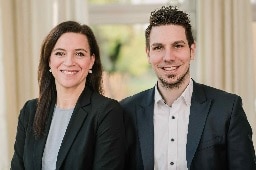 Julia Collard & Sven Schnitzler
Julia Collard and Sven Schnitzler are Doppel[t]spitze. Networking & learning and the personal and virtual exchange of knowledge are their passions. As knowledge networkers, they make opinions, people, companies and their work visible. Innovative work means that they get by without power games & competitive thinking and that individual performance, efforts and ideas are in the foreground.
Dual leadership means that Julia and Sven work in tandem in their agency to develop and implement innovative and practical online marketing concepts. A clear marketing strategy is the key to success. The focus is always on people and their stories. "Share your story" can say so much – stories connect people, companies and departments. They make people visible and have an impact. This is how Julia & Sven live marketing.