"Uber yourself before you get Kodak'ed." I recently read on Twitter. "Uber yourself" – what a great thought. Short, to the point. And: simply wrong. 
For many people and organisations Uber is a synonym for disruption, for new business ideas and models, for digitisation and customer orientation. An organisation that is revolutionising an industry worldwide by turning people into taxi drivers and self-employed entrepreneurs. Absolutely impressive, isn't it? It's just a shame that Uber made a loss of over a billion dollars in the first quarter of 2019 alone.1
Why are Uber & Co. not a benchmark?
At the beginning of May 2019, Uber went public in New York, collected about 8.1 billion dollars from investors and was valued at 82 billion dollars. With approx. 91 million registered users and 3.9 million drivers worldwide, as well as approx. 1.5 billion journeys per year this sounds comprehensible.2 On the other hand, Uber is worth about as much as Siemens, the company that has been manufacturing gas-fired power plants, X-ray equipment and high-speed trains very successfully for about 150 years.3 Perhaps the value of a company is a question of perspective?
Have you ever been to an event where speakers from Spotify reported? The company seems to do a lot right, at least when it comes to the number of Powerpoint or Prezi slides that deal with Spotify. After all, it became so well known that the Swedish "Engineers" usually change their team every two years, as the tasks remain challenging for the people. The distribution of knowledge and the strengthening of the network are positive effects."4 Aha.
"Unlock the potential of human creativity – by giving a million creative artists the opportunity to live off their art and billions of fans the opportunity to enjoy and be inspired by it." is the mission at Spotify. Spectacular. As of today, Spotify has nearly 200 million users and since its inception in 2006 has made a profit in only one quarter: in Q3 2018, its stake in Chinese competitor Tencent Music was revalued, resulting in a tax credit of 125 million euros and a quarterly profit of 43 million Euros.5  
Obviously companies like Uber, Spotify or Zalando and Amazon – after all the only company often mentioned in the context of disruption and digital business models that is now actually making a profit – are pursuing a different strategy: they want to grow, increase the number of their users and customers, increase reach, awareness and market share. They invest a lot of money to achieve these goals and offer different customer benefits. Customer benefits for which investors are willing to invest money. And that's why they can' t be a benchmark for your business. If you don't believe this, just go to your boss and suggest to him or her to become the world market leader within a few years, but from now on only generate losses. I am already looking forward to corresponding photos of evidence …
Why aren't Kodak & Co. warnings?
"Uber yourself before you get Kodak'ed." If Uber is a synonym for disruption and digital business models, then Kodak is a synonym for companies that have late recognised customer needs, missed the adaptation of their own products and finally paid for these failures with their existence. And what does this mean for your company? Probably relatively little at first.
In fact, it's more of an exception than a rule for companies like Siemens to exist for 150 years. The end of companies is much more common than many people are aware: in 2018, for example, there were 636,159 trade deregistrations and 19,302 company insolvencies in Germany (with 668,724 trade registrations).6 Every new business registration is therefore almost matched by a business deregistration.
Companies disappear from the market for various reasons. Kodak launched its first consumer camera in 1888 and discontinued production in 2012. The company was on the market for 124 years. 124 years in which the company shaped entire markets with colour films, instant cameras or the first digital SLR camera. However, successes in the past have never been a guarantee of success in the future.
It is easy to point the finger at companies that are unable to adapt their products and services, their distribution channels and suppliers, and above all their business models quickly enough to new markets and opportunities. But such finger pointing is not fair. Perhaps we should just take a look at Uber's performance in 2133. Then the company from San Francisco celebrates its 124th birthday.
What is Benchmarking?
Of course, companies can learn from other companies. The so-called benchmarking "is the continuous comparison of products, services as well as processes and methods with (several) companies in order to systematically close the performance gap to the so-called best in class (companies that master processes, methods etc. excellently). The basic idea is to determine which differences exist, why these differences exist and which possibilities for improvement exist."7
A distinction is made between internal and external benchmarking. Internal benchmarking involves the comparison of processes, methods or procedures within a company. It is the search for good practices that can be adapted from other areas. External benchmarking involves comparison with competitors. "Competitor" is the decisive keyword. Is Uber a competitor of yours? Or are Spotify, Zalando, Amazon your competitors? 
Proper and incorrect benchmarking
What can companies learn from competitors? Or more precisely: What can your company learn from your biggest competitor? This is a question – perhaps the most important one – for you. You can also learn about Uber, Spotify and Co. and find out what is so special about the companies, how the respective business models work in detail and which aspects you can adapt if necessary. Of course, it is particularly useful if you are, for example, active in the taxi business. Then you may notice that customers at Uber know who drives them from A to B, what the journey costs, in which vehicle they are driven and how the driver was assessed. Customers receive this information when they select their service provider. Could the taxi industry follow suit and build something similar? I suppose so. Through a "continuous comparison of products, services, processes and methods". Add to that aspects such as passenger insurance, credit card acceptance in every taxi, a clear pricing model with constant prices per mile or the elimination of basic charges – why should the taxi industry fear competition from Uber?
Alternatively, you could ask yourself why Intel was the first chip manufacturer in the 1990s to advertise "Intel Inside" to end customers for a component that performed its services inside a computer. And you can also ask yourself why Mahle, as one of the market leaders for alternators, does not do this. Day in, day out, you can get to grips with all sorts of companies. In the end, however, such comparisons tend to lead in a direction that is of little use to you. Or in other – slightly drastic – words: it is "incorrect" benchmarking.
Before you get to grips with companies and practices from other industries, you should benchmark against the best in class in your field. Who is that? What does they do different from you? Why does they do it differently and why can they do it differently at all? What consequences would it have if you did the same in the future? How can you test whether your customers would like it if you did what the best in class does?
" Proper" benchmarking helps companies to become better. It helps to identify and seize opportunities. It helps to further develop products and services, business ideas and models.
Bottom line
The comparison with companies is good and important. Benchmarking with the best in class is better. Companies such as Uber, Spotify, Zalando and Amazon are cited disproportionately frequently as examples of developments, offers, processes or procedures. But these examples are not relevant for most companies, because they are in different situations, pursue different goals, often even have a different kind of responsibility for their employees. Don't Uber yourself! Of course, companies need to develop, and it makes sense to use good examples as a guide. Can companies learn something from Uber and Co.? Of course. But your company will not start to operate in the market without profit expectations and instead look for investors.
Can Uber and Co. learn anything from other companies – despite all the disruption? Of course. Spotify will certainly look at why Netflix is so successful. It's very likely that Uber is watching what Lyft is doing. And you, what are you going to look at soon?
Notes (in German):
[1] https://www.n-tv.de/wirtschaft/Uber-schreibt-tiefrote-Zahlen-article21058632.html
[2] https://www.sueddeutsche.de/wirtschaft/fahrdienstvermittler-uber-verluste-verluste-verluste-1.4408118
[3] https://www.sueddeutsche.de/wirtschaft/uber-boersengang-verlust-1.4427977 
[4] https://twitter.com/derDoubleD, Tweet vom 04. Juni 2019 
[5] https://www.internetworld.de/e-commerce/spotify/spotify-erwirtschaftet-erstmals-gewinn-1597228.html 
[6] https://www.destatis.de/DE/Themen/Branchen-Unternehmen/Unternehmen/Gewerbemeldungen-Insolvenzen/_inhalt.html
[7] https://wirtschaftslexikon.gabler.de/definition/benchmarking-29988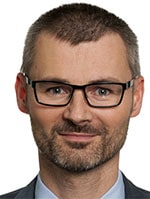 Michael Schenkel
Head of Marketing, t2informatik GmbH
Michael Schenkel is a graduate business economist and is passionate about marketing. He has a certificate for excellent hiking characteristics, Odenwaldtour in classes 6a/6b and since 1984 the Seahorse. He likes to blog about requirements engineering, project management, stakeholders and marketing. And he will certainly be delighted if you meet him in the real world for a cup of coffee and a piece of cake or for a virtual get-together.