Dr. Andreas Zeuch
Dr. Andreas Zeuch works as a freelance consultant, trainer, speaker and author. He accompanies companies on their way to more empowerment and corporate democracy. His books "Alle Macht für niemand. Aufbruch der Unternehmensdemokraten" and "Feel it!: So viel Intuition verträgt Ihr Unternehmen" are bestsellers and provide many practical examples.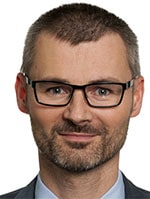 Michael Schenkel
Head of Marketing, t2informatik GmbH
Michael Schenkel has a heart for marketing - so it is fitting that he is responsible for marketing at t2informatik. He likes to blog, likes a change of perspective and tries to offer useful information - e.g. here in the blog - at a time when there is a lot of talk about people's decreasing attention span. If you feel like it, arrange to meet him for a coffee and a piece of cake; he will certainly look forward to it!​