Sprint Goal
What is a Sprint Goal, what advantages does it offer and how should it be formulated?
A specific target as orientation
The sprint in Scrum is a central element. Within the framework of sprint planning, the product owner and the development team – to which the Scrum Master belongs – jointly define a Sprint Goal. It is usually proposed by the Product Owner and must be accepted by the development team. In principle, the development team is committed to implementing agreed user stories as part of a sprint. However, a Sprint Goal is more than "just" the implementation of user stories; it describes a common vision of the sprint and defines the purpose of the sprint. The Sprint Goal thus answers the question of the meaning of the increment to be created and provides the basis for selecting the user stories that contribute to achieving the Sprint Goal.
Advantages of sprint goals
A sprint goal offers orientation to all participants and thus a number of advantages:
It determines the direction that is taken in a sprint. The selected backlog items are the way to reach the Sprint Goal.
It promotes joint work in the development team, as each participant is committed to achieving the goal. The achievement of the target becomes the mission of the development team.
It is the basis in the Daily Scrum, where the questions about the completed and pending tasks as well as the work obstacles in the context of the Sprint Goal are to be answered. In this way, the three questions could easily be reworded:
What have I done since yesterday to achieve the Sprint Goal?
What do I do until tomorrow to reach the Sprint Goal?
What hinders me in my work to reach the Sprint Goal?
It helps to prioritise user stories for a sprint, because there are usually stories that are more important than others for achieving the target.
They are suitable for communication with stakeholders who often prefer short statements to numerous details on individual user stories.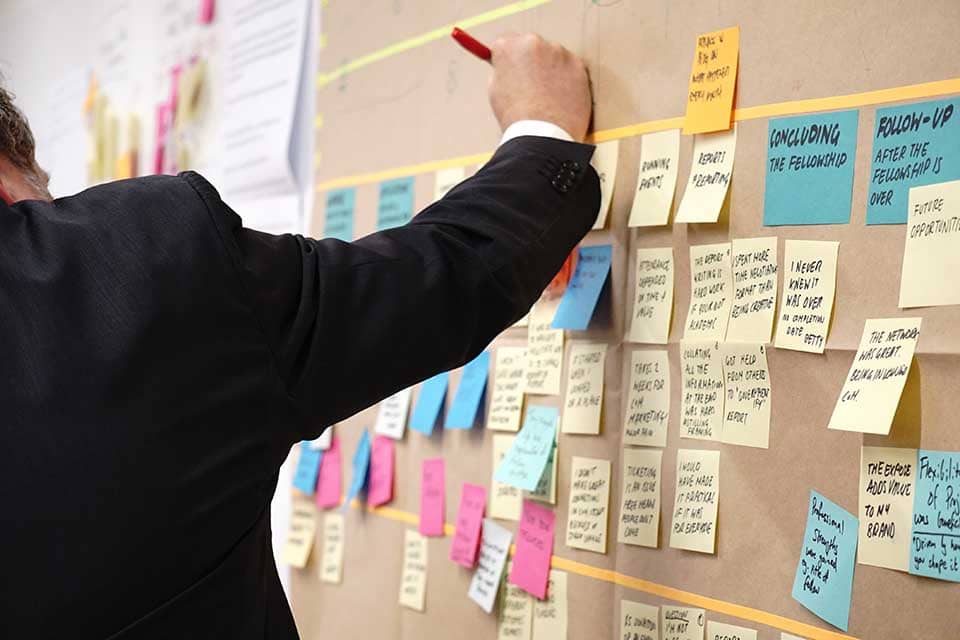 The formulation of sprint goals
When formulating a Sprint Goal, the Product Owner should ensure that it is described in a specific, measurable, demanding but achievable way. In addition, it can only have a motivating effect if it is formulated positively. In addition, it has proven itself in practice to visualise the Sprint Goal as an element on the taskboard.
In principle, a Sprint Goal should not be adjusted in the course of a sprint, but as soon as it turns out that it cannot be achieved, it is advisable to cancel the sprint. In the course of a retrospective, the team should then reflect on the reasons for the failure.
Notes:
Here you will find additional information from our Smartpedia section: