Talent Management ≠ Human Resources Development
It is the people who make up our team and our cooperation. And these human relationships make up a significant part of the success of our teamwork, but are still neglected in HR processes because of their complexity and lack of measurability.
When selecting new employees – internally and externally – hard facts such as final grades or job references speak a clear language in terms of professional qualifications. However, whether an employee fits into the team in the long term or vice versa our work dynamics fit him and what motivates and binds him in the long term does not follow a standardised evaluation procedure.
Responsibilities versus necessities
Talent management should take this situation into account – in fact. Because in many cases Talent Management is subordinated to Human Resources Development and thus to HR. But how should a department discover people's dispositions that are not yet pronounced?
While human resources development in most companies is outside the project teams and operational processes in its own sphere of influence, talent management must take place within the team itself. The term describes what it is all about: "talents".
And this is not about designing personnel development programs on the drawing board that are universally applicable to every employee. Nor is it a question of using a particularly innovative and well thought-out continuing education or training concept to increase the attractiveness of an employer to the outside world. In the future, it must finally be a question of responding individually to the competencies, inclinations, abilities and wishes of the employees.
In times of flat hierarchies, colourful career and life paths and employees who see their job (only) as part of their holistic personality development, talent management must do exactly that: be open to what is to come. Rather to the one who comes. With all its facets.
And so the second part of the word should have a different meaning: namely talent development. Talent cannot be "managed" or developed. But it can be given attention, time, patience and respect. Talent development is not a process that happens to an employee, but one that everyone in the team constantly helps to shape.
Must be´s for talent development 2.0
The prerequisites for such a development process are:
Communication must work in order to soften departmental thinking and promote self-organisation. HR is not HR for its own sake.
We need an understanding of the values and desires of different generations. And thus the exchange of ideas, wishes and demands.
Talents find talents – respect for every talent in the corporate culture to anchor prevails. If there is no prescribed way to achieve the work goal, we learn a variety of methods every day from everyone. Open your eyes, be courageous.
We need to know the people in our team – beyond their resumes and diplomas. Follows points 1 and 2.
Leadership also needs talent – younger colleagues don't know their talents or can't assess their value. Confidence in the performance of each team member creates an atmosphere for testing individual skills. And the chance to discover new talents!
We need impulses from outside – even if the internal talent factory leads employees to find their way in the company with fun, external talents inspire the driver of innovation. And they bring a different perspective to everyday work – no matter how colorful it is.
All of this is much more expensive than current personnel development. Because it makes every employee a participant and requires active and agile thinking, design and attention. And it requires an HR department to make itself virtually invisible and put itself at the service of the individual talents (and thus virtually all employees), to be part of the team network, without creating personnel development models as an end in themselves or controlling employee retention using an HR tool.
The continuous exchange
Do we still need HR in the future – or leadership? Without wanting to get into buzzwords and discussions at meta level: From our point of view, talent development must take place at the specialist level – so departmental management is more than ever also what is (has been) traditionally attributed to HR. In the future, we will need far fewer departments and functions, we will need people who take on roles, tasks and responsibilities.
In our department this means – instead of annual staff appraisals – consistent feedback appraisals from day one. Whether as a trainee, as a specialist or as team leader. With the appropriate training and further education as required. Not according to plan. And above all with a lot of mentoring. It may be that we spontaneously sit down in the offices of our colleagues or the team (there is pretty much everything – from individual to group offices, depending on the inclination and requirements of the tasks. Sometimes with an open door and sometimes with a closed door). Then we talk about what's on the agenda during the day, what happened at the weekend and which project you'd like to work on. Amazing how rarely such a conversation is expected. How much "normal exchange" is overwhelming". And how much trust and – yes, really! – performance can increase.
Since we have noticed that informal feedback is lost, not noticed or not enough in everyday working life, we also conduct regular mandatory interviews. Trusting – sometimes diverse – negotiations about salaries, perspectives, life planning cannot be shot from the hip. Certain reliable regulations and structures simply make sense. Because this is also part of talent development – recognising that inclinations, abilities and strengths can be used better, more meaningfully and more effectively in other places and in new positions. This never means that we cannot stay in contact and continue to support each other. Nevertheless – and this is consistent with us – even though we are only superiors on paper, we also remain those for HR. Better: the contact persons for the whole person.
Communication as a "Binding Factor"
Certainly not just our opinion: the more we talk, the more stable our relationships become. This applies both privately and at work. When we stop communicating, we automatically stop appreciating each other. And this means that we can no longer develop together, but only separately. That is exactly the end of the road for the team. And since communication is no longer just personal, we also have to stay fit when it comes to the right tools. We have tried out a variety of different tools and can only say that only with increasing experience as a measure of personal communication compared to "digital" can be reduced. In our team, colleagues start immediately after graduation. The communication network here must be much denser and more direct – even though it is Generation Z. Being digital native doesn't always mean mastering every aspect of digital communication intuitively, just because you know the tool.
Our way
We have set ourselves the goal of developing our "talents" – and this is simply every employee at every age and career level – in such a way that he or she can advance himself or herself, his or her network, and ultimately us, in the direction of cooperation in the future. We have acquired the necessary knowledge theoretically and trained it practically. Because this is the only way it makes sense to lead and develop. For the entire team. Including ourselves as well. 360° learning and development requirements.
Diversity can only arise if the development goal is not fixed from the outset – but that is the fundamental error of many companies: Personnel development (and thus almost always talent management) is constantly aimed at achieving a (predefined) new career level or leadership position, and is therefore too immovable for an agile corporate transformation.
Notes:
Julia Collard and Sven Schnitzler have published some more posts in the t2informatik Blog, including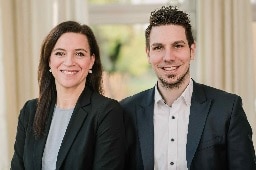 Julia Collard & Sven Schnitzler
Julia Collard and Sven Schnitzler are Doppel[t]spitze. Networking & learning and the personal and virtual exchange of knowledge are their passions. As knowledge networkers, they make opinions, people, companies and their work visible. Innovative work means that they get by without power games & competitive thinking and that individual performance, efforts and ideas are in the foreground.
Dual leadership means that Julia and Sven work in tandem in their agency to develop and implement innovative and practical online marketing concepts. A clear marketing strategy is the key to success. The focus is always on people and their stories. "Share your story" can say so much – stories connect people, companies and departments. They make people visible and have an impact. This is how Julia & Sven live marketing.