Software selection in 10 steps
"Project Management Software: 13 Free Solutions." "Market Overview: The Best Project Management Tools". "30 web-based project management tools at a glance". If you are looking for project management software on the Internet, you will quickly find various overviews and comparisons. Many selection processes begin with the study of such lists. They rarely offer a serious comparison of the possibilities and features, but merely describe the basic orientation of the software. "X is a project management software that makes it easy for your teams to plan and manage projects." Or: "With the web-based project management software Y you simply have your projects under control". Such information does not help in the selection of a suitable software. But how should you proceed if you want to make a meaningful decision?
The software selection process
The software selection process is often described as a multi-stage process with the following nine steps:
Market Analysis
Creation of a longlist with potential suppliers
Obtaining non-binding price and performance information from software vendors (Request for Information)
Evaluation of the information received and creation of a shortlist with a closer selection of suppliers
Presentations of the suppliers who have made it onto the shortlist
Definition of content binding information about contract specifications and other subjects of negotiation (Request for Proposal)
Proof that ideas and requirements can also be implemented in practice (proof of concept)
Negotiations with preferred suppliers
Selection decision
Do you know the most important factor in your software selection? That's YOU! But you don't appear in any of the steps mentioned. It is your individual situation, it is the requirements of you and your colleagues, it is your parameters. Your individual initial situation is decisive for software selection and subsequent software acceptance. Admittedly, that sounds banal. But although it sounds so banal, in practice shortlists are often drawn up without any consideration of concrete starting situations. Solutions are shortlisted because companies have a good reputation, there are contacts between company employees or simply because product A is at the top of an American comparison page. If you are looking for a suitable software solution, you should first answer a few essential questions:
Who has what challenge and why?
What support is needed and how can this support be provided?
What expectations are placed on the solution by whom?
Who are the stakeholders of the project, what are their attitudes, motives and goals?
What general conditions need to be observed?
Criteria for software selection
If you have answered the questions with the affected persons before the market analysis, you can think about the criteria of the software selection. Criteria give you a structure for comparing the software. How can you determine criteria for your software selection? Your requirements or your requirements management are a very good starting point. Requirements management is not only a key discipline in the development of software and systems, but also in the selection of software. However, it is not a question of an efficient way of managing requirements, but of the best possible approach to determining requirements – often referred to as requirements engineering. What is the best process in requirements management? What is the ideal procedure for requirements collection and which steps are essential – a blog post with answers can be found here.
Your boundary conditions are an important criterion for your software selection. Which guidelines, standards and laws do you have to observe? Which technical parameters exist? Can you store all data in a cloud-based solution in the USA? Are there any special obligations to provide evidence in your industry? Do existing systems have to be integrated? Or do you have a great deal of know-how in the use of a defined database? Answers to such questions provide additional requirements and thus further criteria for your selection. How expensive is the software to be purchased? Asking the question about the price is logical and correct, but the timing is important for your software selection. Why? Imagine, a software costs 200.000 Euro. What does such a statement do to you? Far too expensive, isn't it? Practically every employee has a feeling for the price of a product, but without reference to the requirements, the basis for evaluation is missing. 200,000 euros for a graphics program is far too expensive. 200,000 euros for a multilingual, company-wide ERP solution from a global player, on the other hand, could be justified. Without an evaluation basis, solutions fall by the wayside at an early stage. This is where the Request for Information can help, giving you price information from the manufacturers that you can compare with your requirements. Maybe you just want to go from A to B and with a cheap bike you could do it. But maybe you also want to transport goods and then you should compare the costs for vans and not for bicycles. So it is important to always ask the question about the price in relation to your requirements and for that you have to define them first.
Of course you should consider with the price information apart from the acquisition costs also costs for the start-up, for maintenance as well as payment modalities and budgets. How important is the manufacturer of the software for you? Large companies often opt for large providers because they assess the future existence of the company more positively than smaller companies. The size of a company can therefore be a criterion. But in the course of the manufacturer evaluation there are additional criteria: Is the solution sold directly by the manufacturer or indirectly through sales partners? If sales is organised via partners, to whom do you report problems, questions or suggestions for improvement and how quickly do you expect reliable answers? How are support, assistance 365/24/7, delivery of updates, on-site user help and training provided? The longer you think about your situation, the more criteria you will come up with. These criteria are a result of your individual initial situation. They are the basis for your software selection and therefore also the reason why a simple comparison of feature lists on the Internet is not sufficient to master the challenges in your company.
Weighting of criteria
You have defined your criteria – and now? Now another aspect comes into play: the weighting of the criteria. Without weighting, all criteria are equally important. But there are two challenges to overcome:
It is in the nature of things that every employee assesses his or her own requirements more importantly than those of colleagues. Since the individual benefit of a software is an elementary component for the acceptance of a software, this is not surprising. This can lead to conflicts between colleagues, roles, departments or divisions.
In most criteria catalogs three, four or five gradations are used: 1, 2 or 3. Or desirable, important, very important, critical. In order to avoid conflicts between colleagues & Co., most requirements are placed at the highest level and the benefit of weighting is null and void.
So how does the weighting of the criteria work? Increase the number of levels. The more levels you use, the better. If you think this through to the end, you will receive an absolute weighting, i.e. a number of levels that corresponds to the number of requirements or criteria. Of course, such a procedure causes a lot of effort, but the result is an unambiguous list. Is such an effort worth it? A good question. Is it worth investing in software that will not help you master the challenges in your organisation? No.
Conclusion
You can easily find software comparisons and feature lists on the Internet. For an initial market analysis and as a source of information, these can provide useful hints. But this is the second step before the first step. In the course of a software selection you should deal with your initial situation, with your requirements and criteria and with the weighting of your criteria in the first step. This is the basis for a good decision and the basis for the known nine steps of a selection process. Of course, this increases the effort involved in selecting a suitable solution – here it is advisable to find a sensible balance between effort and benefit. You also define this measure on the basis of your initial situation, because it is obvious that the selection of an alternative software for a graphic designer may cause less effort than the selection of a company-wide ERP solution for a global player. Sounds banal, doesn't it? And what follows the choice of software? The optimal software implementation.
Notes:
Here you can download a free whitepaper on the topic of software implementation.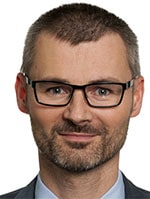 Michael Schenkel
Head of Marketing, t2informatik GmbH
Michael Schenkel is a graduate business economist and is passionate about marketing. He has a certificate for excellent hiking characteristics, Odenwaldtour in classes 6a/6b and since 1984 the Seahorse. He likes to blog about requirements engineering, project management, stakeholders and marketing. And he will certainly be delighted if you meet him in the real world for a cup of coffee and a piece of cake or for a virtual get-together.