Smartpedia: Collaboration refers to cooperative work between individuals with a common goal.
Collaboration is a concept of cooperation
Collaboration is often equated with teamwork or cooperation. The meaning of the term goes far beyond this simple explanation. Collaboration stands for a cooperative approach between employees of one or more organisations towards a common goal.
Collaboration on the one hand promotes cooperation between single individuals and on the other hand strengthens the interaction of internal or external, cooperative units, i.e. groups, teams, departments, areas, cooperations and partnerships. If companies work together on developing solutions or selling products, this cooperation is always based on single individuals, i.e. if you think about collaboration and want to improve it, you have to deal with the single individual.
In addition, collaboration uses organisational and/or technical structures and addresses access to information, the use of workflows and the use of tools. Collaboration is therefore more of a concept than simply teamwork or cooperation.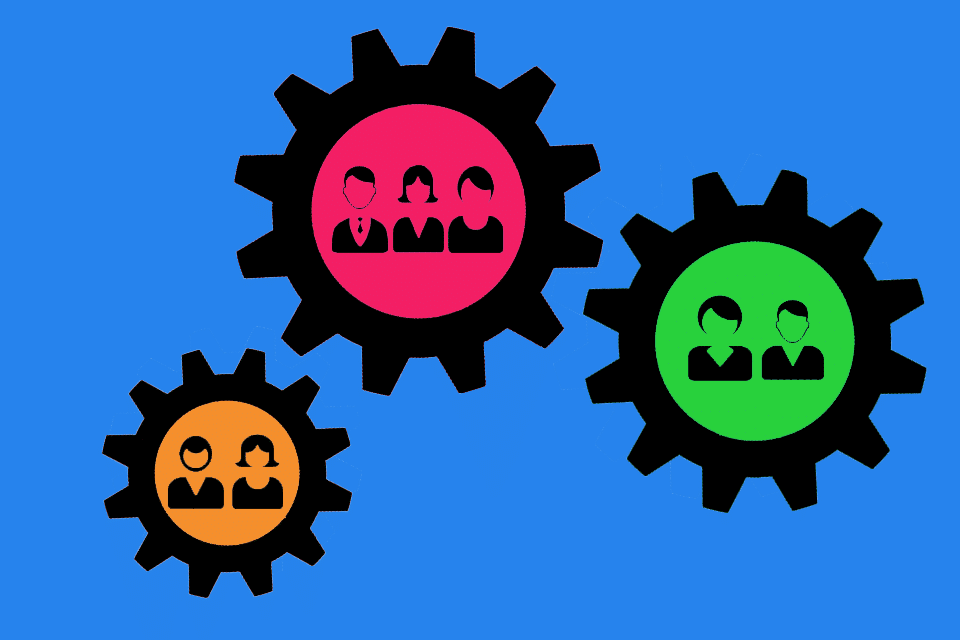 Collaboration skills and abilities
Collaboration requires will, attitude and diverse skills. It is important to develop a common understanding in order to make the cooperation effective and efficient. The following points can contribute to this:
Purpose: What is it about, who works how, when, why, where and at what frequency with which tools? Only if the individual sees a sense for himself in the cooperation, it can function permanently and well.
Common goals: The achievement of common and correspondingly defined goals is in the foreground. Group goals are more important than individual goals.
Mutual support as well as the willingness to share information, knowledge and success.
Appreciation: Recognition and respect between the participants promotes cooperation. The appreciation finds expression, for example, through active listening, verbal or non-verbal communication, empathy and favorable feedback.
Positive experiences, trust and the willingness to learn together.
Social Collaboration
In recent years, the term "social collaboration" has established itself for the cooperation of people using software. The conceptual proximity to "social media" is probably no coincidence.
The further the digitalisation of the world of work progresses, the more important social collaboration becomes. Remote work becomes possible because distances in space and time can be bridged. Access to information and the distribution of information is controlled electronically. And communication takes place sequentially and time-shifted – aysnchronously or synchronously in real time (also known as real-time collaboration).
There are a number of tools, platforms or concepts that support social collaboration. Among other things, they are used for
the planning of projects and developments,
the management of resources,
the management of tasks,
the visualisation of activities,
the display of work progress,
the documentation of results,
the exchange of data,
the reporting and analysis of data,
the interaction between different systems,
or the cooperation between customers and suppliers.
Interestingly, collaboration has long been supported by software, such as groupware, file sharing, intranets, email, video conferencing, and messenger services, so social collaboration isn't really new.
Collaboration Tools
Again and again the question of "good" collaboration tools arises. But what is good? Is a solution being sought for internal use or should external employees and service providers also be able to access it? What features does the tool have to offer, what skills do users need in order to use it? How elementary is data protection? Where is hosting possible? How important is the sharing of documents and screens, the assignment of roles, the display of requests to speak, parallel chatting, the recording of individual sessions or the use of so-called break-out rooms? There are many aspects to consider when selecting suitable solutions.
Below you will find a list of tools, without claiming completeness and with individual focal points:
Teamwork – Collaboration between team and clients on a common platform
Milanote – Organising ideas and projects with visual boards
Google Drive – File editing in the cloud including use of Google Docs, spreadsheets and presentations
OneDrive – Data management in the cloud
OneNote – Digital notebook
Evernote – Prioritised to-do lists for ideas and projects
NextCloud – Collaboration on documents, e-mail account, video chats
Office 365 – MS Office in the Cloud, including OneNote, Sharepoint, Teams, Yammer …
Notion – Workspace for notes and documents, knowledge base and spreadsheets
Confluence – Central information management and exchange for projects including blog and calendar
Jira – Cloud-based development tool for teams
Etherpad – Open Source Online Editor
Ethermap – Create, view and share maps and locations
Cryptpad – Text and code editor, kanban and whiteboards, and data storage in the cloud
Teamdrive – Data storage in the cloud
Basecamp – Message boards, to-do lists, chat, calendar and document storage
Slack – Organised communication as an alternative to e-mail
Conceptboard – Visual collaboration with boards, mind maps, calendar, documents
NETSYNO – Digitisation of processes
GitHub – Development platform for hosting and reviewing code
GitLab – Complete DevOps platform
Gitbook – Administration of notes and product information
Bitbucket – Platform for code management including coding, testing and deployment
Mentimeter – Interactive presentations with real-time interaction via mobile phone
Trello – Organisation of boards, lists and maps
Sharepoint – Share data, information, news and resources
Mural – Visual collaboration with diagrams, flowcharts, drawings
Dropbox – Link and synchronise local files and cloud content
Telegram – Messenger for PC/Mac/Linux, Android and macOS
Meistertask – Online task management for teams
Yammer – Establishing company-wide networks and communities
Microsoft Whiteboard – Digital canvas for developing ideas
Mipui – Create, edit and display cards for table or role play
Jive –  Managing relationships between people, content and activities in an ecosystem
HackMD – Real-time collaboration on documentation in teams
Zoho – Platform with over 40 individual applications from CRM to finance and HR
Signal – Messenger for Android, iPhone and Desktop
Viber – Messenger and telephony
WhatsApp – Messenger service for text messages, image, video and sound files
Threema – Messenger service that can also be used anonymously (and securely)
WeChat – Platform for chatting and telephoning
Snapchat – Messenger for Smartphone and Tablet PC
WebEX – Videoconference, Webinar and Desktop Sharing
GoToMeeting – Videoconference with Office 365 plugin
ClickMeeting – Webinar software for online courses and training, meetings and collaboration
TeamViewer – Platform for remote access and remote maintenance
AnyMeeting – Web conferencing and webinar service for small businesses
Google Hangout – Platform for SMS, audio and video calls
Microsoft Teams – Platform for chat, meetings, notes and files
Amazon Chime – Online meetings and video conferencing
Mikogo – Desktop sharing software for remote maintenance, web conferences, online presentations and e-learning
Spreed – Mobile video communication
GoMeetNow – Video and web conferences
Edudip Next – Browser-based webinar software operated in Germany
FastViewer – Remote maintenance and online meetings
Zoom – Combination of video conferencing, online meetings, chat and mobile collaboration
Skype und Skype for Business – Communication tool for IP telephony, messenger services and video conferencing
Tine Chat – Video Chat Room Community
VSee – Group video chat and screen sharing
RecordCast – Online Screen Recorder and Video Editor e.g. for sharing ideas
Butter.us

 

– Online Workshops, Brainstormings , Design Sprints etc.
…
Impulse to discuss:
Should organisations send employees to Meetups in order to benefit from the experiences of others across companies and to promote collaboration across company boundaries?
Notes:
Here you will find additional information from our Smartpedia section: