Tooling in hybrid project management
The development from a conventional staff, line or matrix organisation to an agile project organisation is progressing. The high dynamic demands fast decisions based on secure information. In this context, solutions for hybrid project management are sought that cover the entire spectrum from project work to project controlling and demand and budget management. They should also consider agile planning in teams, which is seldom foresighted and therefore makes the planning of projects and resources in the company more difficult. The combination of both solutions is therefore essential for the successful, hybrid implementation of projects. How can this be achieved?
From my point of view with a classic project management software that integrates the agile project management world via an interface. In this way, the effectiveness of agile work, which is often planned with solutions such as JIRA, is combined with the transparency of a classic project planning solution required for the implementation of projects on budget and on schedule. The result is hybrid project management that combines classic approaches with agile project management approaches.
What is classic project management?
The classic project management landscape usually includes a project manager, a project management office, various team leaders and team members. For detailed planning, the software solution often uses a Gantt chart that displays projects, phases, tasks, milestones and the planned resources. This provides project managers in classic project planning with detailed views and thus transparency with regard to completion dates, costs, employees used, etc.
What do agile teams do?
In contrast, agile working methods offer advantages especially in software development and other complex environments. A team is formed that continuously works on versions of a software while it is already being used by users. The team members are familiar with the material and prioritise the work steps individually. Agile teams often have a Product Owner, a Scrum Master and various team members. The teams are largely self-organised and estimate the effort based on their own experience. This takes place roughly at the beginning and is refined over the course of the project. Regular sprint planning, reviews and retrospectives as well as daily discussions about the progress of the respective sprint are obligatory. Work is carried out according to the backlog specifications. All of the above steps are mapped in a solution for agile project management – often JIRA, for example. What is missing above all is resource planning, which would also be relevant for agile teams, as no one is available to carry out project tasks at all times because of absence due to illness, vacation, professional training, etc. What is also missing from the agile way of working is an overview of the entire project landscape at the click of a mouse.
Frequently used agile tool: JIRA
The current situation in many companies with hybrid working methods using the frequently used agile tool JIRA and classic project planning is as follows: There is an agile parallel working environment that initially appears to be intransparent. This circumstance makes the successful planning and implementation of projects and resources in time and budget in the classical project environment more difficult. At the same time, it is undisputed that agile working methods can unleash creative potential and produce something new. That is why companies want to stick to it. They also enjoy great popularity among development teams. They appreciate the agile cooperation with colleagues, because seemingly unstructured procedures open up space for creative work in manageable planning stages and offer the greatest possible flexibility for the implementation of tasks. There is a lot of potential in this method – as Albert Einstein said: "Nothing can develop without chaos!"
The perspective of the project manager
Project managers are faced with a large number of projects that are constantly growing and involve daily rescheduling. But that's not all: large parts of the planning duties are subject to difficult conditions, since it is not transparent which employees are currently working on agile projects for how long. In this respect, resource planning can only be carried out on an estimated basis. Also, binding statements to customers regarding project progress and completion dates are challenging, as there is no insight into the agile world and therefore no complete overview is given. The project manager is also responsible for the use of the planned budget and the employees. However, since many parameters regarding the use of resources are in the dark, this is simply not possible. Einstein also summed this up: "Nothing can exist without order!" In other words, the two worlds of classic and agile planning need to be brought together to ensure the success of projects.
The integration of classic and agile tools
While development departments swear by agile methods, project managers and portfolio managers are blinded by these approaches: As already described, the project manager often does not know if and when the agile teams will implement the work (work packages or stories) for his project. In addition, capacity planning does not occur in agile methods, which makes company-wide resource management more difficult for the portfolio manager. The information deficit can only be compensated by a high level of coordination and communication effort. Here, classic software tools with interfaces to agile solutions offer real added value.
To connect both worlds in the best possible way, a solution for classic project planning should transfer Epics and assigned stories of a scheduled sprint from the agile world via interface into the classic planning environment and create and display them there as work packages with the assigned resources and their estimated expenses calculated from the story points in the project planning. In this way, the strengths of the agile working method are fully preserved. At the same time, a comfortable visualisation of the project progress is made possible by AI-supported capacity planning in the classic project management solution, which allows the professional management of the project in time, budget and quality. The project manager is constantly informed about the use of resources and budgets and can connect to any number of agile projects in order to ensure the flow of information relevant to him.
A meaningful tooling
The use of hybrid project management software creates a win-win situation if it is possible to combine the classic and agile project worlds. This requires that
projects can be planned by mapping content from the agile world and implemented in time and budget – e.g. by allocating budget and personnel and controlling the use of these resources.
solutions can offer a comparison of resource usage; this comparison shows how much of the calculated time budget has already been used and how much time is still available to complete the stories – either for a team or for a person. This can be handled individually depending on the corporate philosophy.
project managers gain a transparent insight into the activities of a sprint in order to be able to carry out resource planning and document the progress of the project.
project managers only plan on the phase, while the detailed planning takes place in the agile software.
information such as user stories, epics and sprints from the agile solution can be displayed as work packages in the classic project management tool.
hybrid working methods can coexist in projects without developer teams having to take on double data administration in different systems.
complex and sometimes unnecessary coordination is eliminated.
company-wide capacity planning is supported.
the accurate transfer of data records (e.g. PSP no.) to connected third-party systems – e.g. for the business accounting of hourly rates – is made possible.
By the way, a complete support of the SAFe process model is not a mandatory requirement, but is certainly worthwhile for some companies. 😉
Bottom line
Agile project management brings with it a new way of thinking and working that positively changes the way project teams interact. Companies benefit from this development above all if management decides on the appropriate project management software that supports and directs team work – as well as the self-organisation of employees – and thus enables hybrid project management. When selecting this solution for hybrid project management, you should make sure that
agile teams can continue to work independently, flexibly and with manageable planning horizons.
project managers are given the opportunity to prioritise projects.
budget and personnel can be allocated appropriately.
transparency with respect to the use of resources is guaranteed.
projects can be implemented successfully (in time and in budget) and thus a contribution to the economic preservation of the company is made, without renouncing the creative freedom of agile teams.
Notes:
Thomas Schlereth is managing director of Can Do GmbH and offers a software for hybrid project management. For this reason, we asked him to present his view on tooling in a hybrid world. You can take a look at the Can Do software here and test it for 7 days free of charge: https://www.can-do.de.
The project management association IAPM International Association of Project Managers provides definitions and an introduction to hybrid project management and its components in its readable guide "IAPM Hybrid PM Guide 2.0". The guide is divided into the three parts "classic project management", "lean management" and " agile project management " and describes, which forms of hybrid project management exist, which individual benefits result from most different combinations, and on which decision-making basis a suitable hybrid system can be provided. The guide is available here.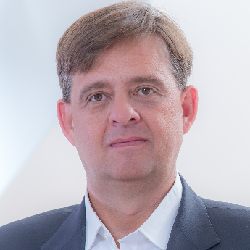 Thomas Schlereth
Thomas Schlereth is the founder of Can Do GmbH and responsible for the conception, design and ongoing development of the award-winning Can Do software. He has profound project management and consulting expertise and likes to publish articles on project management, resource planning and risk management.