Liberating Structures – Freedom for Better Communication
In a working world where communication, creativity and innovation are becoming increasingly important, conventional communication structures are reaching their limits. A good time to get rid of them and try something new. Liberating Structures enrich our possibilities with a toolbox of currently 33 methods, also known as microstructures, which bring people into contact with each other in an uncomplicated, focused and fast way.
The old communication corset has become too tight
Aren't we all tired of these meetings, lectures, seminars where one person talks and the rest listens? And even if there's still time for others to speak, it's almost always only the eloquent, the extraverted, the ones who always talk. A genuine discourse, fruitful exchange and reflection are hardly possible.
This is not necessarily the fault of those involved. One wants to invite or contribute to open communication. But the traditional structures often do not allow this:
Missing, unclear or unambitious objectives and meaningless invitations – the bar of expectations is set low from the outset,
rigid interior design,
detailed introductory statements/lectures,
Strongly regulated (e.g. conducted panel discussions) as well as disorganised discussion forums (such as non-moderated meetings) unintentionally hinder interaction and engagement,
lists of speakers to be worked through one after the other, in which the reference to the original impulse to speak is quickly lost,
long speeches that don't get to the point – frequent repetitions and ever longer waiting times included,
a lot of power and status wrangling, interjections and dialogues that ignore the list of speakers and frustrate the rest of those present.
Some are also put off by the shyness of speaking to larger groups, or the claim to speak only when there is really something important to contribute (the latter is especially true for women).
Sessions and the like are therefore more likely to be energy and resource guzzlers than benefactors. Specialists and managers are demotivated. Companies miss out on countless thought-provoking impulses, new ideas and innovations. But in today's working world, these are precisely the factors that determine success. The only question is:
How can idea-finding and decision-making processes be organised sensibly in groups?
How can each participant contribute their knowledge and potential productively?
How can new inspiration arise in teams and how can old problems be solved effectively?
Creating liberating structures
People are many times more productive in work and learning situations if they can play an active role, work in small teams and help shape their own future. With the right structures, they can release creative energy that would otherwise be lost in tiresome arguments.
Liberating: [verb] to set free from imposed, controlling structures.
Structures: [noun] set of simple rules that specify how people are included and partizipate.
Liberating Structures: Simple rules that make it easy to include and unleash everyone in shaping the future.¹
This was also the opinion of US-American Keith McCandless and Frenchman Henri Lipmanowicz, the authors of the Liberating Structures (LS). At a coincidental meeting at the Plexus Institute (founded in Washington in 2000), they discussed that complexity sciences have practical applications and could be accessible to everyone. McCandless, an experienced health care foundation director and a committed founding member of the Social Invention Group, was very interested in transformative learning and planning methods. These met Lipmanowitz's business acumen – he was top manager of a global player for 30 years and a founding member of the Plexus Institute.
The result: they collected the first prototypes of the Liberating Structures. To do this, they first used existing structures such as Open Space, Appreciative Inquiry and Fishbowl, which they adapted to their needs. In addition, they developed further versatile modules with the aim of involving many people quickly and as easily as possible in idea generation and decision-making. In the meantime, there is a growing set of methods consisting of LS microstructures, which is freely available under Creative Commons License (CC BY NC).
Both McCandless/Lipmanowicz and the user groups, which are spread around the world as well as in Germany, are developing new ideas for further modules, which are tested and refined and finally published on the American LS website as recommendable microstructures (see links at the end of this article). Interested parties can try out the LS structures in the User Groups/MeetUps, practitioners can exchange their experiences and learn from and with each other. This community building is already part of the mindset behind the LS.
The Mindset behind the Liberating Structures
LS as alternative communication structures are easy and fast to learn. They can be used by anyone: company management or works and personnel council members, external companions or team members. The decisive factor is the inner attitude, because it is not the microstructures themselves that make the decisive difference, but the credibility with which people are invited to open up and actively participate. Without this attitude, Liberating Structures are simply a collection of tools. Because: A fool with a tool is still a fool.
The use of LS is based on the attitude not to treat knowledge exclusively but to make it freely available with the aim of supporting co-creation and participation and involving as many actors as possible. The microstructures make it possible to develop mutual understanding, a common direction, closer cooperation, solidarity and mutual support within a short period of time.
The LS have quickly gained popularity, especially among supporters of agile working methods. No wonder, after all they also orient themselves on "agile values" such as commitment, simplicity and feedback.
The attitude associated with LS is described with these principles:
Involve everyone and honestly invite them to express themselves freely.
Show deep respect for people and respect local solutions.
Build trust with every step, ensure psychological security.
Learning by "failing forward", i.e. trying things out with the risk that something will not work out.
Practice self-discovery in a group, i.e. discover your own opinion in a group of opinions, welcome diversity, enable peer-to-peer learning.
Strengthening freedom and responsibility.
Think in possibilities and believe before you see.
Inviting "creative disruption" to enable innovation.
Arouse seriously playful curiosity.
No beginning without a clear purpose.
How the magic works
This mindset is the foundation of the magic behind the LS. In addition, there are the five design elements that decisively shape all communication and interaction, not only with LS:
Invitation
Procedure and duration
Structure and materials
Composition of groups
Involvement of the participants
With LS principles in mind, these five design elements for each microstructure were carefully developed, tested, improved before being published as a module. Nothing is left to chance – hence the term "microstructure", i.e. fine structure within the communication structure, in contrast to "macrostructures" such as hierarchies and processes. LS can be used on a small scale by two or more people and do not require a great deal of preparation – this is another reason why they are called microstructures: the effort is kept as low as possible.
All modules go through these rigorous tests in order to achieve two things: they should be easy for anyone to learn and use, and the results should be reproducible and above-average.
When using LS, it is therefore clear how the speaking time is distributed and how the groups are configured, which materials are made available and what the setting in the room will look like. As many small groups speak in parallel, each person has their say. The tight timeboxing promotes focus and helps to avoid repetitions or digressions. In this way, many thoughts are expressed in a short time and new ideas are created in the interaction. The corresponding "stage directions" can be found in the explanations of the respective modules in a clear form.
The LS always includes an invitation with a clear purpose. A person or a small moderation team on site is always responsible for the questions with which a group is invited to communicate and interact. Here it is necessary to define the challenges to be clarified and to carefully formulate open-ended questions so that they neither suggest a direction nor constrict the thoughts. Instead, they should set a focus and enable an open exchange. Above all, this requires practice.
Liberating Structures seem so simple that it is difficult to imagine the powerful effect they can have in practice. A consistently constructive dynamic develops very quickly, in which people become personally and emotionally involved while keeping the focus on the respective topic.
Creating benefits with Liberating Structures
LS are useful wherever people want to exchange ideas in groups and/or develop ideas. They are just as suitable for small companies as they are for corporations, public administrations or non-profit organisations. In the work context they can be used in meetings, work and project groups, learning offers, company meetings, project or product presentations, strategy developments, presentations of status reports and much more. In short: in all group situations where you want to try out new ways and make new results possible for the following purposes:
a) sharing ideas, know-how, experiences, challenges,
b) disclosing, discovering, creating, developing/improving possibilities, obstacles, solutions, ideas,
c) investigate, identify, clarify, detail, debrief,
d) help, get help, collaborate,
e) develop strategies,
f) planning.
Some modules are particularly suitable for selected purposes of this list, others are helpful for several purposes. You can start by using individual LS methods in group events and achieve refreshing new results. One of the simplest and most frequently used LS microstructures is e.g. "1-2-4-All" (especially suitable for purposes mentioned under b). Here you first think alone, then in twos, then in fours and finally with the whole group. Within twelve minutes all participants have set their focus, actively exchanged thoughts, made connections and developed first ideas. This microstructure helps to take the first obstacles to active participation and to create the basis for the next processing steps.
More experienced people form the so-called "strings", i.e. a well thought-out combination of several microstructures. This chain formation is necessary to solve complex problems with groups. In this way, unproductive communication patterns can really be broken through and a new, inspiring dynamic awakened. The "Matchmaker", an online tool on the LS website, makes it easier to select the suitable modules for a string according to the defined purpose (see above). Alternatively, you can also use the LS Design Cards.
Usually, three to five microstructures are linked to form a string, whereby any combination is conceivable. This is why McCandless/Lipmanowicz recommend first developing several alternative strings with a moderation team and then jointly selecting the best combination for implementation.
An example:
This string is presented on the LS US website as a popular "everyday" string for a weekly project management team meeting designed to help overcome a multifaceted challenge. This can be a budget problem, a structural change or a change project – or all three at once. Before the meeting, the topic is already discussed in other rounds with the microstructure "1-2-4-All", but not (yet) solved. The resulting important questions are now taken up with this string in the management meeting. With "Wicked Questions" the core questions for the challenge are identified and reflected by "Conversation Cafe". Finally, options for action on the core questions are collected in groups of three. For a management meeting moderated with this string, approx. 1.5 – 2 hours should be planned.
Tips for using Liberating Structures
If you have become curious about LS and its effects, I would like to recommend the following:
Get to know basic structures in user groups, MeetUps etc. and get tips from other practitioners, e.g. on how to open and close the idea space with LS. The more microstructures you know, the better you can react to what the group needs.
Discover possible uses for LS in your work contexts and be creative. You will increase acceptance and joint responsibility if you discuss the first use of LS with the team/group and explain the basic idea of LS.
As a moderator, only provide the framework for the interaction in the room, but do not participate in the content.
The special art of working with LS lies in the formulation of the open-ended invitations or questions and in the formation of the strings. The temptation to form arbitrary questions and random strings may be great, but then only arbitrary results can arise. It is worth investing good preparation in these elements, highlighting the purpose and clearly moderating the LS. This is the only way they can unfold their powerful effect for the intended purpose.
Don't fall into "methodological bickering". You can combine LS well with other methods from the agile environment (e.g. Serious Games), but should not scare your group from method to method and lose sight of the actual purpose.
Share your experiences with others, whether in user groups or online, and give something back to the LS community.
Bottom line
Anyone who wants to achieve results different from those achieved so far does not have to intensify previous efforts, but rather do things a little differently than before and above all start with the structures, e.g. the communication structure.
This is where Liberating Structures can help. With their clear, content-related framework and tight, predefined pace, they are a helpful means of structuring group communication and interactions and making them more efficient and effective. LS can develop a powerful effect. They can also support change processes, for example to make agile basic ideas tangible. With LS, facilitators gain a whole toolbox full of options for actively involving participants in larger groups and producing results on their own responsibility.
The use of LS may initially only mean a small change in the way people interact with each other. But small changes can open the way for big ones.
Notes:
[1] US-Website www.liberatingstructures.com/, German Version: www.liberatingstructures.de.
Liberating Structure Design Cards from Holisticon can be obtained here. Alternatively, there is also a free app for iOS and Android.
Examples of strings for different occasions and in different groups can be found here.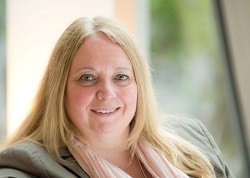 Birgit Schiche
Birgit Schiche used to be an executive herself for a long time before she decided on a different career path. As a change management consultant at Daimler and later as a senior consultant at a Hamburg management consultancy, she supported organisations and managers in change processes. Today she works as a consultant and coach with Plan B. Schiche - Human Resources Strategy & Leadership as a Pioneer for a New World of Work. Her principle: Even the smallest steps to change are worthwhile - the main thing is to get something moving. She particularly encourages women to play an active role in shaping change.